GRx Lightening Pads Plus
Regular price

Sale price

$270.00
A set of Gorgeous Rx products that brightens the skin faster with 2% hydroquinone with Vitamin C, Alpha Arbutin, Kojic Acid, and an exfoliator. All ingredients needed to clear those dark spots from acne, discoloration, or melasma. The active products, brighten pads with hydroquinone that contains kojic acid and vitamin c, along with retinol 0.05% cream to exfoliate the skin. Dual Defense Sunscreen prevents further discoloration while protecting the skin as it fades those dark unwanted areas. The hydrating cream moisturizer keeps the skin soft and supple and highly moisturized. 
The set includes:
Brighten pads with 2% Hydroquinone
Hydrating Cream Moisturizer
Dual Defense Sunscreen
Retinol 0.05%
Application:
AM
Brighten pads with 2% Hydroquinone
Dual Defense Sunscreen
PM
Brightening pads with 2% Hydroquinone
Retinol 0.05% 
Hydrating Cream Moisturizer
Share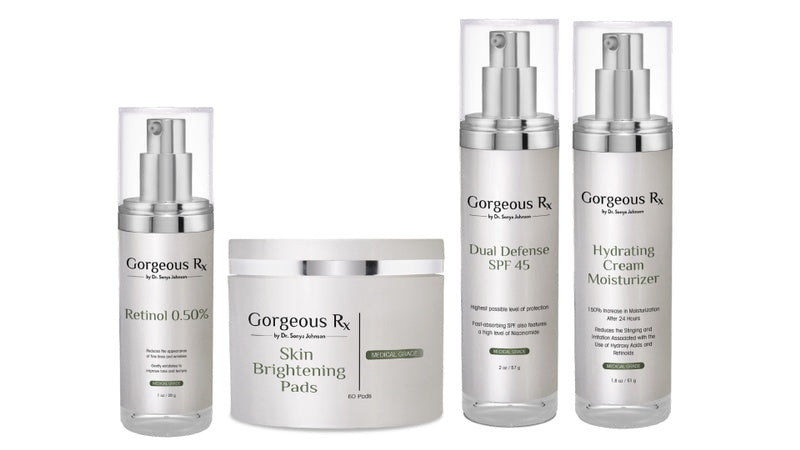 Backed By Experience

Dr. Sonya Johnson based her products on what works best for her patients for over 20 years.

Delivery

We offer fast shipping options. Your products will arrive within 2-4 days. We also offer pickup.

For All Skin Types

Our products are formulated to work best on ethnic skin but the work equally well for any other skin types.

Easy Returns

Don't like the product or did not get the expected result? We have you covered with our fast and easy return policy.
FAQs
I AM USING GORGEOUS RX® FOR THE FIRST TIME, WHAT DO I NEED TO KNOW?

Gorgeous Rx® System is meant to be used as a daily skin care regimen to help even skin tone and clear the skin of blemishes, smooth the texture, and restore glowing skin. It has been tested and formulated for all skin and skin tones.
HOW QUICKLY CAN I EXPECT TO SEE RESULTS?

You can start to feel smoother skin within one week with the Tretinol serum. Acne clearing with the Acne Eliminating Serum and Sulfur Charcoal mask takes 2-3 weeks. Even skin tone with Brilliant C and Tretinol takes 5-6 months. Collagen stimulation with the Wrinkle-Free Serum occur within 2 weeks.
DO YOU TEST ON ANIMALS?

Gorgeous Rx™ System are not tested on animals.
DOES GORGEOUS RX® CONTAIN HARSH CHEMICALS?

Are products are naturally derived, paraben-free, sulfate-free, fragrance-free, and gluten-free. Are products are also free of:

Imidazolidinyl Urea, Cocamide, DEA, Hexelyne Glycol, Petrolatum, Prop 65, Decelyne Glycol, Propylene Glycol, Formaldehyde 1-4 Dioxane, Hormones
WHAT ORDER TO PUT ON PRODUCTS?

General recommendations for the application of products

Cleansers
Any liquid products
Anti-Aging or Anti-Acne
Serum or Cream
Products for eyes

Cleansers
Any liquid
Tretinol
Products for eyes
Testimonials

this product is nothing short of AMAZING!!! I use this two- three times a week and my face has never felt this smooth in my entire adult life.

Candance L
I highly recommend this product. I have been using the Ultra Hydrator for about a year now and I absolutely love it. I am not a big fan of moisturizers because they feel too heavy but being a serum this product is very light. I feel this product gives my skin a natural glow and the youthful look that I need. It only takes a little bit and this product lasts me about 6 months. Well worth it and more.

Nicloes Hannon
This product is the best! I only use a small about dab it around my face apply a little water and scrub away! It takes away all my dead skin and smooths as it goes! This is a must buy!

Candace Laycock
I began using the Brilliant C product about 1.5 weeks ago. I have noticed that my skin has an even glow/tone now. I don't feel oily nor does my skin feel heavy with products. So far this is the best moisturizer/blending agent that I have used. I cant wait to see what the coming weeks will bring for my skin! #gorgeousskinnow

THENAS0311